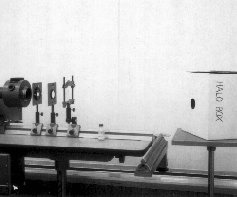 M2-31: HALO BY DIFFRACTION FROM SMALL PARTICLES
PURPOSE: To demonstrate a halo by diffraction of light by small particles.
DESCRIPTION: Breath on a glass plate, then sprinkle a fine layer of lycopodium powder onto the plate. Light from a bright point source is focused by a 30 cm focal length convex lens into a hole in the front of a box, and the aperture is adjuste d so that the light (without the scattering powder plate) just passes through the hole. When the powder plate is positioned in the beam, the diffraction is sufficient to create a colored halo around the hole, as pictured above. Using the average size of the lycopodium powder spheres (about 4 microns) the diffraction angle can be calculated approximately.
Actually this effect is a GLORY rather than a HALO; a halo is a refraction/dispersion phenomenon while a glory is a diffraction phenomenon.
SUGGESTIONS:
REFERENCES: (PIRA unknown.)
EQUIPMENT:
SETUP TIME:
---