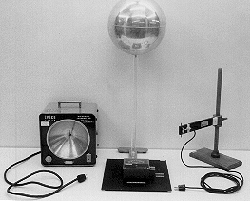 M2-22: MICROWAVES - DIFFRACTION BY A SPHERE
PURPOSE: To demonstrate microwave diffraction be a conducting sphere.
DESCRIPTION: A Van de Graaff generator ground sphere is used as the diffraction center for a beam of 12cm microwaves. The diffracted wave is picked up by a moveable microwave receiver and displayed on the overhead projector microammeter.
SUGGESTIONS:
REFERENCES: (PIRA unknown.)
EQUIPMENT: Microwave transmitter, Van de Graaff ground sphere, and microwave receiver with overhead projector microammeter.
SETUP TIME: 5 min.
---