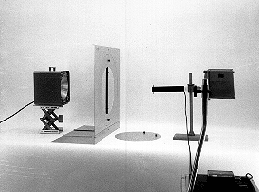 M2-21: MICROWAVES - DIFFRACTION BY CIRCULAR APERTURE
PURPOSE: To demonstrate diffraction of microwaves from a circular aperture.
DESCRIPTION: Twelve centimeter wavelength microwaves are incident on a circular aperture. The diffracted waves are picked up by the moveable microwave antenna and displayed using the overhead projector meter.
SUGGESTIONS:
REFERENCES: (PIRA unknown.)
EQUIPMENT: Microwave source, Circular aperture, and microwave receiver with overhead projector microammeter.
SETUP TIME: 5 min.
---