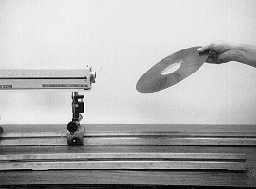 M1-33: LASER DIFFFRACTION - PHONOGRAPH RECORD
PURPOSE: To demonstrate interference of a laser beam by a type of grating.
DESCRIPTION: This demonstration uses an old 33 1/3 RPM vinyl disc recording to produce an interference pattern with a laser beam. Hold the record at an angle with respect to the incoming laser beam and look for the diffraction pattern on the wall or the ceiling.
SUGGESTIONS:
REFERENCES: (PIRA unknown.)
EQUIPMENT: Laser (on cart) with phonograph record.
SETUP TIME: None.
---