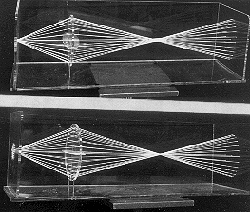 L6-36: STRING MODEL - ASTIGMATISM
PURPOSE: To illustrate rays for on-axis astigmatism.
DESCRIPTION: Rays from a single point source with a single divergence are focused by a lens which has a cylindrical component of curvature. Here the focal length of the vertical focus is shorter than the focal length of the horizontal focus. T he lower picture, taken from the horizontal plane including the central ray, shows the vertical focus. The upper picture, taken from an angle above the horizontal, shows the waist between the horizontal and vertical foci.
This type of astigmatism, often encountered in the human eye, is shown in Demonstration O1-23: ASTIGMATISM - ON AXIS.
Another type of astigmatism, known as off-axis astigmatism, occurs when images are produced off the optic axis by a spherical lens, and is shown in Demonstration L6-37: ASTIGMATISM.
SUGGESTIONS:
REFERENCES: (PIRA unknown.)
EQUIPMENT: Astigmatism string model.
SETUP TIME: None.
---