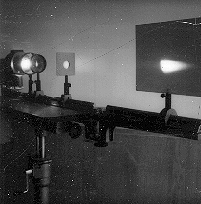 L6-35: CHROMATIC ABERRATION - POINT SOURCE AND 20 CM LENS
PURPOSE: To show the effect of chromatic aberration in a lens.
DESCRIPTION: Two 20cm convex lenses are available: a simple spherical lens and an achromat. The point source is focused onto a slit, which in turn is imaged by the lens on a distant screen. The screen is rotated as shown to increase the dispersion at the image. The achromat has virtually no chromatic aberration compared with the simple lens.
SUGGESTIONS:
REFERENCES: (PIRA 6A65.20)
EQUIPMENT: Bright point source with condenser lens, adjustable slit, 20cm simple lens, 20cm achromatic lens, and small screen on optical bench with extension rail.
SETUP TIME: 5 min.
---