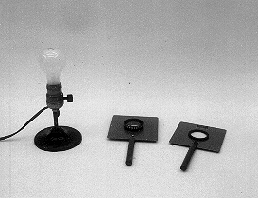 L6-08: REAL IMAGE OF CONVERGING LENS - LIGHT BULB
PURPOSE: To show the real image of a converging lens.
DESCRIPTION: Hold the lens above the light bulb at a distance slightly greater than the focal length of the lens to cast an image of the trademark onto the ceiling. Change lenses to change the magnification.
SUGGESTIONS:
REFERENCES: (PIRA unknown.)
EQUIPMENT: Light bulb with 10cm and 20cm convex lenses.
SETUP TIME: None.
---