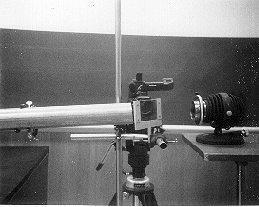 L2-26: HALF-SILVERED MIRROR - RAT IN TUBE
PURPOSE: To illustrate use of a half-silvered mirror.
DESCRIPTION: A stuffed rat is placed at the end of a long tube which is lit from the other end. If one tries to look for the rat directly, one's head gets in the way of the light source or the light source blocks one's view. By placing a half- silvered mirror diagonally at the entrance to the tube, one can view the rat with a TV camera perpendicular to the axis of the tube. This idea has commercial applications, such as the teleprompter placed in front of a TV camera..
SUGGESTIONS:
REFERENCES: (PIRA unknown.)
EQUIPMENT: Four-foot aluminum tube with rat, light source, half-silvered mirror, and TV camera with monitor (large projectors in lecture halls).
SETUP TIME: 5 min.
---