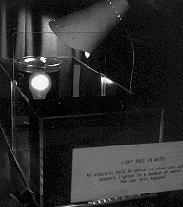 L2-25: LIGHT BULB IN WATER
PURPOSE: To do a magic trick using partially reflected light.
DESCRIPTION: Light from a light bulb located in the front (enclosed) part of the box is reflected off a glass plate such that the reflection (and thus the lit bulb) appears to be in a beaker of water.
SUGGESTIONS:
REFERENCES: (PIRA 6A10.60)
EQUIPMENT: Pre-assembled light bulb in plastic box with glass plate, beaker of green water.
SETUP TIME: None.
---