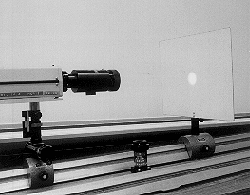 L1-33: LASER BEAM EXPANDERS
PURPOSE: To expand a laser beam to uniform 10mm or 40mm diameter.
DESCRIPTION: Screw-on laser beam axpanders are available for use with the laser on the laser cart shown in the photograph. Beams produced are 1cm diameter and 4cm diameter.
These beam expanders are useful for certain diffraction experiments, for producing large uniform beams, and for testing near- and far-sighted eyes using parallax of the laser spot pattern.
SUGGESTIONS:
REFERENCES: (PIRA unknown.)
EQUIPMENT: Laser with 10mm and 40mm beam expanders.
SETUP TIME: None.
---