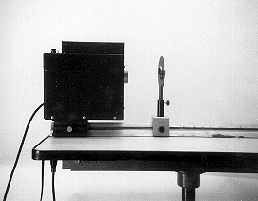 L1-02: TUNGSTEN-HALOGEN LAMP - PROJECTION OF LAMP
PURPOSE: View an operating tungsten-halogen lamp.
DESCRIPTION: A 20cm focal length lens is used to project the image of a tungsten-halogen lamp from one of our bright point sources onto a screen.
SUGGESTIONS:
REFERENCES: (PIRA unknown.)
EQUIPMENT: Point source with mounted 20cm convex lens.
SETUP TIME: 5 min.
---