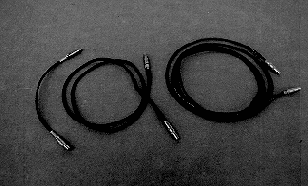 K8-33: NANOSECOND CABLES
PURPOSE: Cables which delay a signal by a fixed time interval.
DESCRIPTION: In performing research in nuclear and particle physics it is often necessary to introduce short time delays into a signal; this is sometimes done using cables. Included here are cables with delay times of 1, 4 and 8 nanoseconds. These are lemo cables in which the wave velocity is 0.68 c.
SUGGESTIONS:
REFERENCES: (PIRA unknown.)
EQUIPMENT: 1, 4, and 8 nanosecond time delay cables.
SETUP TIME:
---