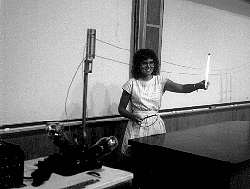 K8-13: RADIOWAVES - LECHER WIRE STANDING WAVES
PURPOSE: To illustrate standing electromagnetic waves in a high-impedance transmission line.
DESCRIPTION: Slide the fluorescent tube along the wires as shown. It will light up at the antinodal regions and remain dark at the nodal points of the standing wave along the transmission line.
SUGGESTIONS:
REFERENCES: (PIRA 5N10.50)
EQUIPMENT: Radiowave transmitter with Lecher wires and fluorescent tube.
SETUP TIME: 5 min.
---