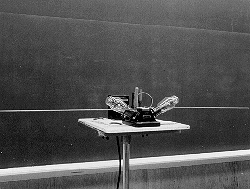 K8-12: RADIOWAVES - STANDING WAVES
PURPOSE: To demonstrate standing waves using radio waves.
DESCRIPTION: Set transmitter so that the antenna is parallel to the blackboard. (The blackboard is made of a painted metal sheet.) Hold the receiving antenna parallel to the transmitting antenna between you and the transmitter, and walk up the steps in the lecture hall. The bulb will produce maximum glow about every two meters, illustrating standing waves.
SUGGESTIONS: Turning off most of the lights aids visibility.
REFERENCES: (PIRA 5N10.60)
EQUIPMENT: Radio wave transmitter with dipole antenna receiver and flashlight bulb indicator.
SETUP TIME: 5 min.
---