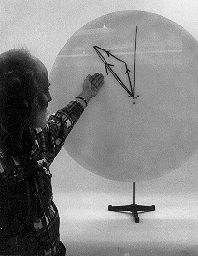 K7-46: PHASOR DISC
PURPOSE: To demonstrate "phasor" rotations and phasor addition.
DESCRIPTION: This model can be used in adding volatges of different phase in an RLC circuit. Draw the phase relations then rotate the model to represent the applied alternating voltage.
It is also useful in adding light from a series of segments of a single slit, simple harmonic motion (single phasor), or the addition of two mechanical waves.
SUGGESTIONS:
REFERENCES: (PIRA unknown.)
EQUIPMENT: Rotating plastic phasor disc on mount.
SETUP TIME: None.
---