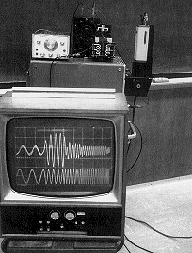 K7-28: RLC CIRCUIT - 0.6 HZ WITH STORAGE SCOPE
PURPOSE: To demonstrate a low-frequency resonant circuit.
DESCRIPTION: The series RLC circuit below is used to display the resonant behavior of an electrical circuit. Varying the frequency of the oscillator produces a signal across the resistor that is dependent on frequency, as seen on the storage scope display.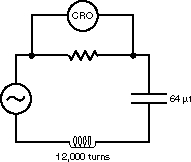 SUGGESTIONS:
REFERENCES: (PIRA unknown.)
EQUIPMENT: Oscillator, decade resistance box, 64 microfarad capacitor, Griffin and George demountable transformer with 12,000 turn coil, dual trace storage scope.
SETUP TIME: 10 min.
---