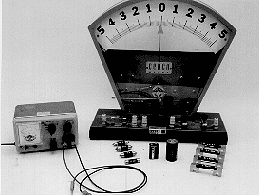 K6-34: METER WITH SHUNTS AND MULTIPLIERS
PURPOSE: To demonstrate how various voltmeters and ammeters are constructed.
DESCRIPTION: Using a basic meter movement, voltmeters and ammeters can be constructed by use of appropriate shunts and series resistances. Connecting various voltage sources, their voltages can be read on the meter.
SUGGESTIONS:
REFERENCES: (PIRA 5F40.20)
EQUIPMENT: Large lecture meter with four shunts and four multipliers, low current power sullpy, 9 volt and 1.5 volt batteries.
SETUP TIME: None.
---