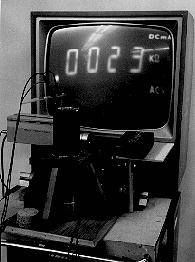 K5-35: RESISTORS AT LN TEMPERATURE
PURPOSE: To illustrate materials with both positive and negative temperature coefficients of resistivity.
DESCRIPTION: Approiximately equal copper and carbon resistors are mounted on plastic mount which can be inserted into liquid nitrogen. When cooled from room temperature to the temperature of liquid nitrogen the resistance of the copper resistor decreases from 15.8 ohms to 2.3 ohms, while the resistance of the carbon resistor increases from 16.0 to 19.7 ohms.
SUGGESTIONS:
REFERENCES: (PIRA unknown.)
EQUIPMENT: Copper and carbon resistors, liquid nitrogen, digital meter, video camera with monitor.
SETUP TIME: 10 min.
---