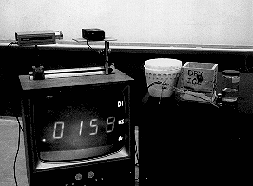 K5-34: THERMAL COEFFICIENT OF RESISTANCE IN COPPER
PURPOSE: To show that the resistance of copper changes linearly with temperature.
DESCRIPTION: Measure the resistance of the copper coil at room temperature (295K), at the temperature of a dry ice and methanol mixture (195K), and at the temperature of liquid nitrogen (77K). Plot resistance versus temperature to demonstrate t he linearity.
SUGGESTIONS:
REFERENCES: (PIRA unknown.)
EQUIPMENT: Mounted copper coil, liquid nitrogen, dry ice and methanol, digital ohmmeter, video camera with monitor, and blank overhead transparency graph with overhead projector.
SETUP TIME: 15 min.
---