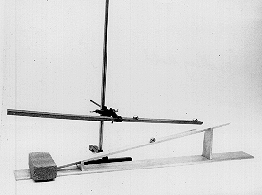 K5-11: BATTERY MODEL
PURPOSE: Simple model of a battery using a human as the source of energy.
DESCRIPTION: The instructor acts as a "battery," raising the potential of the ball bearing "electrons." The electrical potential is expended as the ball bearings flow down to a point of lower potential energy, whereupon the instructor (battery) raises them again to repeat the process.
SUGGESTIONS:
REFERENCES: (PIRA unknown.)
EQUIPMENT: Two triangular tracks with mounting supports, four ball bearings, stabilizing brick.
SETUP TIME: 5 min.
---