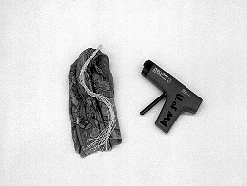 K5-04: PIEZOELECTRIC GUN
PURPOSE: Application of piezoelectricity to produce copious quantities of electric charge.
DESCRIPTION: Hold the bundle of nylon strings by the knot and stroke it with the silk, causing the strings to become charged and to spread out due to the electrostatic repulsion. Aim the gun at the spread out string, slowly pull and then release the trigger. When the trigger is pulled the string separates slightly more (same charge), but when the trigger is released it creates the opposite charge, discharging the string so that the string bundle collapses.
SUGGESTIONS:
REFERENCES: (PIRA 5E60.25)
EQUIPMENT: Piezoelectric gun with nylon string bundle and silk cloth.
SETUP TIME: None.
---