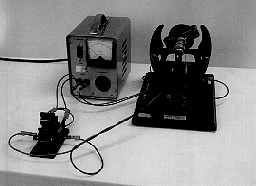 K4-23: AC MOTOR - SYNCHRONOUS
PURPOSE: To demonstrate the concept of a synchronous motor.
DESCRIPTION: The power supply, operating at about 12 volts, is connected in parallel to the field coils and to the armature coils through the double-ring comutator. The current reversing switch can be used with either coil. Reverse the current twice per rotation as the device operates.
SUGGESTIONS:
REFERENCES: (PIRA 5K40.55)
EQUIPMENT: AC/DC generator with double-pole double-throw switch and power supply.
SETUP TIME: 5 min.
---