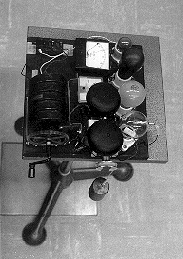 K4-05: MAGNETOELECTRIC GENERATOR WITH METERS AND LOADS
PURPOSE: An AC generator with rectifier, meters and several loads.
DESCRIPTION: The current vs. voltage relations can be observed for various loads using built-in meters. A bridge rectifier is used to feed a DC motor which lifts a 1 kg mass. An individual turning the generator crank can feel the effect of the load.
SUGGESTIONS:
REFERENCES: (PIRA 5K40.80)
EQUIPMENT: Hand-cranked generator with various loads and meters.
SETUP TIME: None.
---