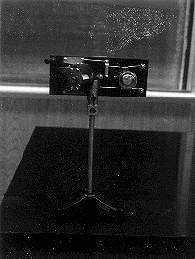 K4-04: MAGNETOELECTRIC GENERATOR WITH AC INDICATOR BULB
PURPOSE: To show explicitly a generator producing AC output.
DESCRIPTION: A neon discharge lamp is used to indicate the polarity of the output of a hand-cranked generator. As the generator is turned, alternate sides of the neon bulb flash, indicating that the electrons are coming from alternating poles of the generator.
SUGGESTIONS:
REFERENCES: (PIRA unknown.)
EQUIPMENT: Hand-cranked generator with neon bulb load.
SETUP TIME: None.
---