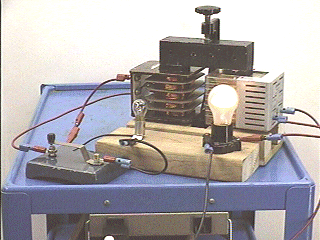 K3-06: TRANSFORMER - PRIMARY CURRENT VS LOAD
PURPOSE: Counterintuitive demonstration of how the primary current in a transformer increases when the secondary load increases.
DESCRIPTION: A 15-watt light bulb in series with the primary of a transformer is used as the "sensor" of primary current. Switching on a 4-volt bulb across the secondary makes the primary sensor bulb glow more brightly.
Set your students up as follows: Before removing the secondary bulb, ask your students what will happen to the primary sensor bulb when the secondary bulb is removed. After re-connecting, ask your students what will happen to the secondary bulb when t he primary bulb is removed.
SUGGESTIONS:
REFERENCES: (PIRA 5K30.60)
EQUIPMENT: Demountable transformer with two 500-turn primary coil and 46-turn secondary coil, 15-Watt frosted light bulb, 4-volt light bulb on switched secondary socket.
SETUP TIME: 5 min.
---