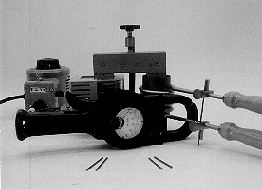 K3-05: DEMOUNTABLE TRANSFORMER - WELDER
PURPOSE: To show that very large currents can be produced in the secondary of a step-down transformer.
DESCRIPTION: A 500-turn primary coil operated at 140 VAC and 5-turn secondary coil are used to produce large secondary current. Holding two nails together across the secondary produces over 100 amps in the secondary (4-5 amps in the primary), welding the two nails together. The clamp-on ammeter reads the current in the secondary.
SUGGESTIONS:
REFERENCES: (PIRA 5K30.40)
EQUIPMENT: Demountable transformer with 500-turn primary coil and 5-turn secondary coil, nails, clamp-on ammeter and variac.
SETUP TIME: 5 min.
---