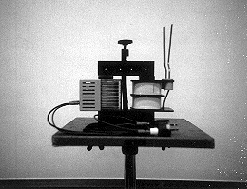 K2-28: DEMOUNTABLE TRANSFORMER - 10 KV ARC
PURPOSE: To demonstrate that a large voltage increase is attainable using a transformer.
DESCRIPTION: The primary coil is plugged into 110 VAC. The turn ratio of nearly 100 produces a large secondary voltage which arcs across electrodes placed on the output of the secondary coil.
SUGGESTIONS:
REFERENCES: (PIRA 5K30.20)
EQUIPMENT: Letbold demountable transformer core with 250 turn primary and 23,000 turn secondary, secondary electrodes.
SETUP TIME: 5 min.
---