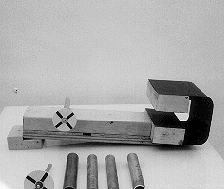 K2-41: LENZ'S LAW - ROLLING RODS
PURPOSE: To demonstrate eddy currents and Lenz's law.
DESCRIPTION: Various rods and tubes, metallic or non-metallic, magnetic or non-magnetic, are rolled down the wooden ramp into the magnetic field of a strong horseshoe magnet. Wooden rollers are not effected by the magnetic field. Magnetic rollers are immediately sucked into the magnet gap when they get close enough to the pole tips. When non-magnetic metal rollers roll into the magnetic field, eddy currents are generated in the rollers which oppose the motion. The roller will slow down dramatically as it enters the field.
SUGGESTIONS:
REFERENCES: (PIRA unknown.)
EQUIPMENT: Rolling rod apparatus as photographed with wooden, aluminum, copper, and iron rods.
SETUP TIME: None.
---