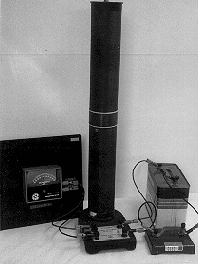 K2-26: MUTUAL INDUCTANCE STANDARD
PURPOSE: To demonstrate the standard for mutual inductance.
DESCRIPTION: Switching the current in the primary on or off induces a calibrated voltage in the secondary (small coil wound around the center of the long primary coil).
SUGGESTIONS:
REFERENCES: (PIRA unknown.) See Demonstration Reference File for documentaion regarding this device and its uses.
EQUIPMENT: Mutual inductance standard, 7.5 volt battery, keyswitch, and galvenometer.
SETUP TIME: 5 min.
---