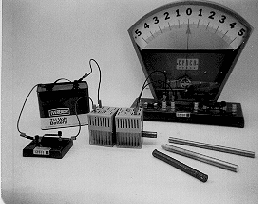 K2-25: MUTUAL INDUCTION - DEMOUNTABLE TRANSFORMER
PURPOSE: To demonstrate mutual induction and to show the effect of various core materials.
DESCRIPTION: Two coils from the demountable transformer set are positioned adjacent to each other. Switching the current in the primary on and off induces short spikes of current in the secondary. Try various core materials to determine their effect on the induced current. While holding down the key so that current is flowing in the primary coil, insert and remove various cores.
SUGGESTIONS:
REFERENCES: (PIRA 5K10.40)
EQUIPMENT: Two 500-turn coils from Leybold demountable transformer set, copper, brass, aluminum and iron cores, 7.5 volt transformer, galvenometer, and keyswitch.
SETUP TIME: 5 min.
---