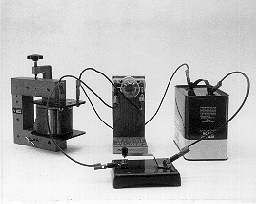 K2-12: SELF-INDUCTION - DEMOUNTABLE TRANSFORMER
PURPOSE: To demonstrate back-EMF in an inductor.
DESCRIPTION: A 1000-turn transformer coil and a neon bulb connected in parallel are connected in series with a 7.5 volt battery and a key switch, as shown in the circuit below. When the switch is closed current flows in the inductor. When the key is released the field of the inductor collapses, inducing an EMF sufficient to light the neon bulb.
SUGGESTIONS:
REFERENCES: (PIRA unknown.)
EQUIPMENT: 1000-turn iron-core transformer, neon bulb, 7.5 volt battery, and key switch.
SETUP TIME: 5 min.
---