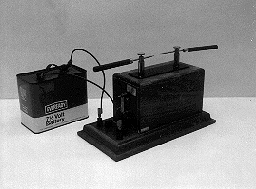 K2-21: RHUMKORFF INDUCTION COIL
PURPOSE: To demonstrate induction of a very high voltage using a small voltage source.
DESCRIPTION: A 7.5 volt battery is connected to the input of a high-voltage induction coil. The induced voltage will produce a 1"-2" spark.
SUGGESTIONS:
REFERENCES: (PIRA 5K10.30)
EQUIPMENT: Rhumkorff induction coil with 7.5 volt battery.
SETUP TIME: None.
---