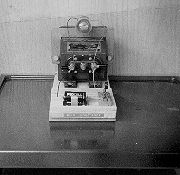 K2-11: SELF-INDUCTION
PURPOSE: To demonstrate self-induction.
DESCRIPTION: The switch is closed, connecting a 1.5 volt battery to start current flowing in the large coil, shown in the circuit below. When the switch is turned off, the collapsing field creates a back EMF sufficient to light the neon bulb (about 90 volts).
SUGGESTIONS:
REFERENCES: (PIRA unknown.)
EQUIPMENT: Mounted 0.92 H autotransformer with 1.5 volt battery, switch and neon lamp.
SETUP TIME: None.
---