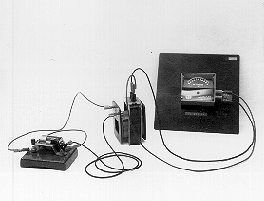 K2-05: FARADAY'S EXPERIMENT - CONCENTRIC COILS
PURPOSE: To demonstrate mutual induction.
DESCRIPTION: Closing or opening the switch starts or stops current in the primary coil, inducing a voltage in the secondary which is seen by the projection galvenometer.
SUGGESTIONS:
REFERENCES: (PIRA 5K10.30)
EQUIPMENT: Mounted flashlight battery and key switch, two 1000-turn coils, projection meter.
SETUP TIME: 5 min.
---