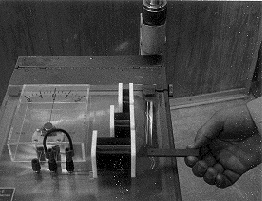 K2-04: FARADAY'S EXPERIMENT - EME SET - 20, 40, 80 TURN COILS
PURPOSE: To demonstrate magnetic induction and to show that the induced current is proportional to the number of turns in the secondary coil.
DESCRIPTION: Three coils are connected in series with a projection galvenometer on an overhead projector. A bar magnet is thrust through one of the coils, inducing current in the coil which is shown on the meter. Three coils are included on the device: 20, 40, and 80 turns; the bigger the coil the greater the induced current.
SUGGESTIONS:
REFERENCES: (PIRA 5K10.21)
EQUIPMENT: EME Induction demonstration with small bar magnet.
SETUP TIME: None.
---