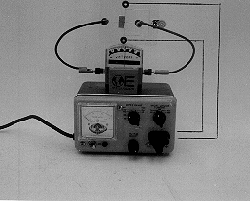 K1-51: HALL EFFECT
PURPOSE: To demonstrate the nature of the Hall effect.
DESCRIPTION: A current is passed through a semiconducting strip. As a magnet is brought near the strip the meter records a potential transverse to the direction of the current. Changing from n-type to p-type semiconductor reverses the sign of the transverse potential.
SUGGESTIONS:
REFERENCES: (PIRA 5M10.10)
EQUIPMENT: P-type and n-type germanium samples on projection plates, 50 mV projection meter, power supply, and small disc magnet.
SETUP TIME: 5 min.
---