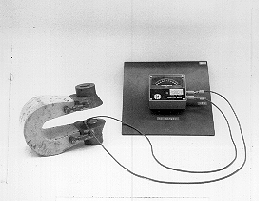 K2-02: INDUCTION IN A SINGLE WIRE
PURPOSE: To demonstrate magnetic induction.
DESCRIPTION: A single wire is connected to a projection galvenometer. Passing the wire quickly between the pole tips of a strong permanent magnet induces electric current, which is seen on the meter. Note dependence of the magnitude of the induced current on the direction and speed of the motion of the wire.
SUGGESTIONS:
REFERENCES: (PIRA 5K10.15)
EQUIPMENT: Permanent horseshoe magnet, wire and projection galvenometer.
SETUP TIME: None.
---