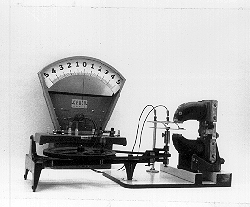 K1-41: BARLOW'S DISC
PURPOSE: To demonstrate how an electric potential difference and current can be generated when free (conduction) electrons move through a magnetic field.
DESCRIPTION: Rotating a copper disc between the pole tips of a strong C-shaped magnet, to create a vxB force on free electrons in the copper, creates a potential difference which is picked up by brushes at the center and the outside of the disc and displayed on the galvenometer. Reverse rotation of disc to invert current.
SUGGESTIONS:
REFERENCES: (PIRA 5H40.50)
EQUIPMENT: Barlowe's disc with rotator and brush assembly mounted on wooden plate, lecture-demonstration galvenometer.
SETUP TIME: 5 min.
---