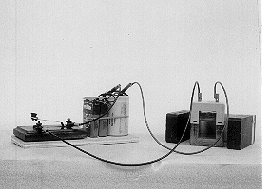 K1-22: TORQUE ON 500-TURN COIL IN MAGNETIC FIELD
PURPOSE: To demonstrate the torque on a coil in a magnetic field.
DESCRIPTION: A large coil sits between the poles of a strong horseshoe magnet with the plane of the coil parallel to the magnetic field lines as in the photograph. When a large current pulse is applied to the coil a torque is exerted on the coi l by the magnetic field which rotates the coil so that the magnetic field is perpendicular to the plane of the coil. The "power pack" is batteries with a capacitor in parallel to provide a stronger and faster current rise.
SUGGESTIONS:
REFERENCES: (PIRA 5H20.20)
EQUIPMENT: Strong horseshoe magnet, 500-turn coil, and power pack with key.
SETUP TIME: 5 min.
---