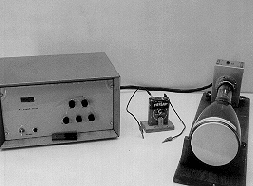 K1-15: OSCILLOSCOPE CRT - DEFLECTION BY ELECTRIC FIELD
PURPOSE: To demonstrate the deflection of an electron beam by an electric field.
DESCRIPTION: The electron beam starting at the rear of the tube is seen on the front fluorescent screen in the standard way. Holding a charged rod near the tube creates an electric field which deflects the beam. Connecting a battery to contacts at the back of the tube puts an electric field on two sets of internal deflection plates, causing either horizontal or vertical deflection of the beam.
SUGGESTIONS:
REFERENCES: (PIRA unknown.)
EQUIPMENT: Oscilloscope CRT with charging materials and battery with leads.
SETUP TIME: None.
---