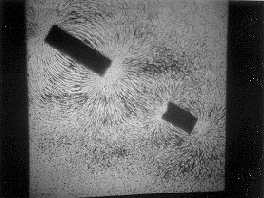 J5-06: MAGNET - BROKEN BUT NO MONOPOLE
PURPOSE: Demonstrate that magnet poles come in pairs.
DESCRIPTION: The magnetic field of a bar magnet is demonstrated using iron filings on an overhead projector. The magnet is then broken and the demonstration is repeated. Each half of the original magnet has both poles, as can be easily seen.
SUGGESTIONS: Please ask for the broken magnet; it is not necessary to break another one.
REFERENCES: (PIRA 5G10.20)
EQUIPMENT: Broken magnet with iron filings and plastic overhead projector viewer, on overhead projector.
SETUP TIME: None.
---