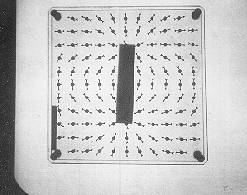 J5-05: MAGNET MODEL - FIELD LINES
PURPOSE: To visualize the magnetic field of a bar magnet.
DESCRIPTION: A bar magnet is placed on an array of small compass needles on an overhead projector. The array of compasses maps out the magnet field of the bar magnet.
SUGGESTIONS:
REFERENCES: (PIRA 5G20.31)
EQUIPMENT: Bar magnet, Klinger Magnet Model, and overhead projector.
SETUP TIME: None.
---