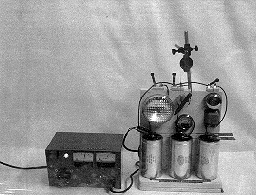 J4-31: ENERGY STORED IN A CAPACITOR
PURPOSE: To demonstrate that energy is stored in a capacitor and to show how that energy may be used.
DESCRIPTION: Three capacitors totaling 205,000 microfarads are charged to 15 volts. Closing the three switches one at a time (a) turn on the light, which decays exponentially, (b) turn on the bell, or (c) activate a motor which lifts the entire system up a few inches!
SUGGESTIONS:
REFERENCES: (PIRA 5C30.30, 5C30.35)
EQUIPMENT: Assembly with demonstrationas described, 15 volt power supply.
SETUP TIME: None.
---