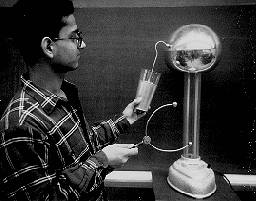 J4-23: POLARIZATION OF DIELECTRIC - DISSECTIBLE LEYDEN JAR
PURPOSE: To demonstrate that energy is stored in a capacitor as charge separation in the dielectric.
DESCRIPTION: A Leyden jar is charged by a Wimshurst machine. It can then be quickly disassembled as follows: (1) remove the charging leads without discharging the capacitor, (2) using an insulated hook, remove the center conductor, (3) remove t he glass jar by hand without touching the outer conductor. You may then feel free to handle all parts individually before re-assembly. To re-assemble: (1) place glass jar in outer conductor without touching outer conductor, (2) using insulated hook, in sert center conductor. Finally, short out the inner and outer conductors to obtain a large crack.
This experiment is generally used to demonstrate that the charge is stored in the glass dielectric, not on the surfaces of the inner or outer conductors. In fact, the energy is stored as polarization charge. However, there is some controversy regarding this explanation, that can be seen in the reference by Zeleny.
SUGGESTIONS:
REFERENCES: (PIRA 5C20.30) See Demonstration Reference File for theory.
EQUIPMENT: Leyden jar, insulated hook, shorting bar, and Wimshurst machine.
SETUP TIME: None.
---