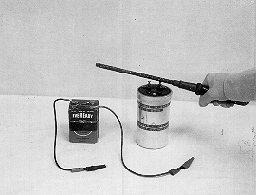 J4-32: DISCHARGE OF CAPACITOR WITH BANG
PURPOSE: To demonstrate that capacitors store electrical energy.
DESCRIPTION: A 3500 microfarad capacitor is charged to 100 volts using the battery pack. Discharging the capacitor with the large screwdriver produces a very loud BANG. Scare the whatever out of your students: tell them to listen carefully for the sound before discharging the capacitor.
SUGGESTIONS:
REFERENCES: (PIRA 5C30.20)
EQUIPMENT: 3500 microfarad capacitor, 100 volt battery pack, large beat-up screwdriver.
SETUP TIME: None.
---