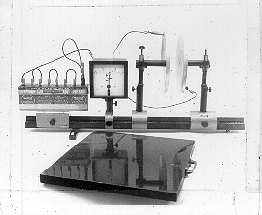 J4-22: PARALLEL PLATE CAPACITOR WITH DIELECTRIC
PURPOSE: To demonstrate that inserting a dielectric into a parallel plate capacitor increases its capacitance.
DESCRIPTION: A parallel plate capacitor is charged by the battery chain and the plates are separated, increasing the voltage between the plates. A thick dielectric sheet inserted between the plates of the capacitor results in a decrease in the voltage between the plates. Because the charge on the plates remained constant, this means that insertion of the dielectric has increased the capacitance. This allows more charge to be stored by the capacitor at the same voltage.
SUGGESTIONS:
REFERENCES: (PIRA 5C20.10)
EQUIPMENT: Parallel plate capacitor setup with dielectric sheet of phenolic.
SETUP TIME: None.
---