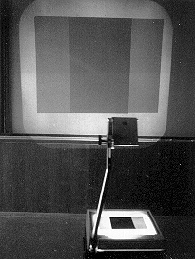 J4-21: COLOR FILTER MODEL OF CHARGED DIELECTRIC
PURPOSE: To represent charge separation in a capacitor dielectric.
DESCRIPTION: Two color filters represent the positive and negative charges in a dielectric material. When unpolarized they overlap completely. Separating the transparencies slightly represents the separation of charge in the dielectric which occurs when an electric field is applied across a dielectric sheet. Use two negative color filters, such as yellow, cyan, and magenta, so that the mixture is not black.
SUGGESTIONS:
REFERENCES: (PIRA unknown.)
EQUIPMENT: Two plastic color filters on overhead projector.
SETUP TIME: None.
---