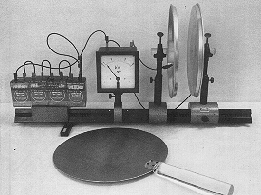 J4-03: PARALLEL PLATE CAPACITOR - SERIES CAPACITORS
PURPOSE: To demonstrate the effect of capacitors in series.
DESCRIPTION: The parallel plate capacitor is charged by the battery chain and separated a shown. A thin metal sheet is then inserted between the two capacitor plates, forming two capacitors in series. The voltage read by the electrometer remains virtually the same, indicating that the capacitance of the series capacitors is the same:
C = C1 C2 / (C1 + C2),
where either capacitance C is inversely proportional to the distance between the plates.
SUGGESTIONS: Let your students guess what will happen when the metal sheet is inserted into the capacitor.
REFERENCES: (PIRA unknown.)
EQUIPMENT: Parallel plate capacitor with electrometer setup and metal sheet on insulating handle.
SETUP TIME: None.
---