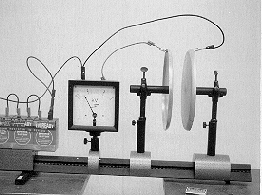 J4-04: PARALLEL PLATE CAPACITOR - IONIZATION OF AIR
PURPOSE: To demonstrate the mobility of ions.
DESCRIPTION: Charge the capacitor and separate the plates. Bring a lighted match under the volume between the two plates. The ionization of the flame creates free positive and negative charges which migrate to the capacitor plates, quickly discharging the plates.
SUGGESTIONS: This doesn't have anything to do with the theory of capacitors, but is a nice way to discharge the capacitor with a bit of mistique.
REFERENCES: (PIRA unknown.)
EQUIPMENT: Parallel plate capacitor setup with matches.
SETUP TIME: None.
---