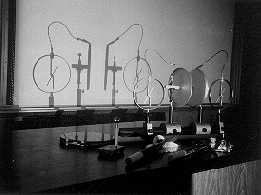 J4-02: PARALLEL PLATE CAPACITOR - SYMMETRIC
PURPOSE: To demonstrate the symmetry of a capacitor.
DESCRIPTION: Charge one plate of the capacitor positive, and the other plate negative, to the same potential as indicated by electroscopes attached to the two plates. Changing the separation of the two plates or inserting a dielectric can be seen to produce the same effect on both plates, as measured by the electroscopes.
SUGGESTIONS:
REFERENCES: (PIRA unknown.)
EQUIPMENT: Two aluminum plates with electroscopes, charging materials, and dielectric sheet, with point projection source.
SETUP TIME: 5 min.
---